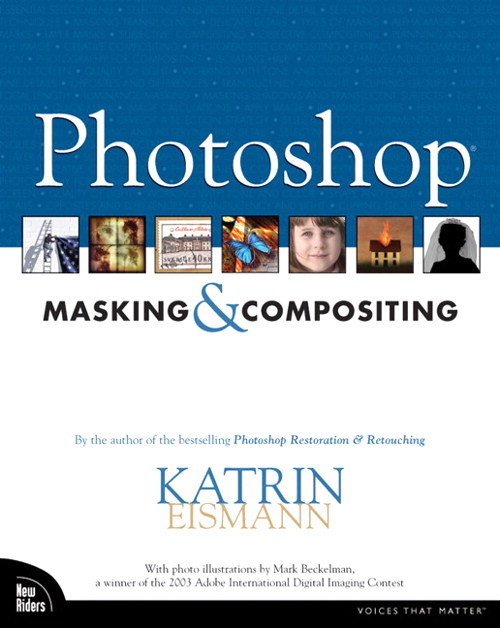 David Mejia: Illustrator, designer, long-time Photoshop geek and Raleigh InDesign User Group member. Check out his portfolio at  http://www.dm-portfolio.weebly.com/
Overview
You're probably wondering "Another Photoshop book?" Well if you're like me, the two areas covered in this book occupy a lot of my productive time when designing or illustrating. Masking, especially in highly detailed areas (like hair!) can be a real headache. You might already have CS6, which has some really awesome built-in tools for detail masking, but if not then the techniques in this book could really save some time. For me compositing is more "fun" and there are plenty of ways to skin that cat, back to that later. This book offers a different angle on not only seamlessly blending and building beautiful compositions but in how using  photography from the start can make a good image better.
The very first line in Chapter 2 (g. 33) kind of sums up the whole book and the author's philosophy in how the book is structured, "For me, one of the very best aspects of Photoshop is that there are usually three to five ways to accomplish anything." For me this was the biggest benefit of all the different how-to's and step-by-step lessons on different aspects of masking – marquees, selections, feathering, etc. and using all the different lasso tools. If you have been using Photoshop for a while you know all about channel operations (remember CHOPS?), there's time saving technique on using channels when you don't want to chew up all your RAM and work faster.
The big bonus for me began at Chapter 6 (Layers Are Your Friends), I am actually in love with layers, I have gone way past the friend stage with layers and yes maybe my files do get a little bloated because of all the layers… but I digress. Working and managing layers, layer sets, clipping masks, adjustment layers and all the variations they allow when compositing images seamlessly – that is the key here – seamlessly. The best images are the ones where you can't really tell where one begins and the other ends or where the various parts are blended or assembled in such a way where you wonder how it was done so cleanly.
I'll finish this by saying the blue and green screen techniques are new to me and I can't wait to try them out, you never know when you might want to know how it works and the best way to use it – pretty cool! And I thought it was only for big Hollywood special effects laden productions! Who knew! I can say this is another book that would be a great benefit to anyone who works with digital imagery on a day to day basis. I just wish there was more time to really spend learning each technique and really playing with it just to see what you can get.
Extras
You also have access to some great online resources available at www.photoshopmasking.com. Here you'll find plenty of images, galleries, links and other information that expands on the step-by-step examples in the book. Whether you're an artist or photographer there's a wealth of great information that will be a real benefit to your work.
Photoshop Masking & Compositing
By: Katrin Eismann
Publisher: New Riders/Peachpit Press
Formats: Print
Print: October 2004
Pages: 560
Print ISBN-10: 0-7357-1279-4 / ISBN-13: 978-0-7357-1279-9